Frequently Asked Questions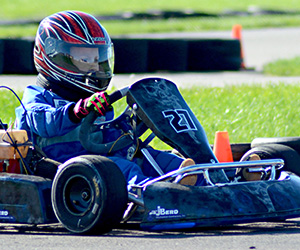 Q: Is there an age requirement?
A: SKC offers karts for everyone ages 8 years old and up. We have 2 styles of karts: Junior rental karts ages 8 thru 12 years old (must be minimum of 48″ tall to ride). Adult rental karts ages 13 and up (must be minimum of 58″ tall to ride).
Q: How fast do the karts go?
A: Top speed on the adult karts is 40 mph. Junior karts 30 mph, and Kid karts 20 mph.
Q: Is experience necessary?
A: No. You will be briefed regarding safety, rules, flags and instruction.
Q: Are reservations available?
A: No, we do not accept reservations.
Q: Do I need to  bring my own gear?
A: Yes, due to Covid 19 we cannot supply helmets
Q: What if it rains?
A: We do not run our karts in the rain or wet conditions.